24 Hours at The Manor Club, Rosewood Beijing
Best for:
Business, Spa, Luxury, Gourmet and City Break
Points:
9.5 out of 10
The perfect song:
Freedom Island -
The Free
Amazingly vast spa with a huge indoor pool under a glass ceiling and tropical vibes
The most perfectly designed property I have seen in years, with the best attention to details
Special bath amenities by Lorenzo Villoresi and amazing welcome amenities
Manor Club access includes the best in-lounge happy hour in the world plus most dedicating service
Complimentary use of chauffeured Tesla X when staying at the Monor Club
Top wherever you look: most expensive linen, amazing furniture, best minibar and Voss water wherever you look
Often I get asked this one question about my favorite hotel and I cannot remember how often I imagined saying a hotel where I haven't stayed at because there has always been this one magnificently designed property in China. Imagine how easy it would have been to just say: my favorite hotel in the world is the Rosewood in Beijing. Rosewood, indeed a brand that I have always been super keen on trying out one day. But how was our stay at my favorite wannabe hotel, in the end?
After a rushed check-in (we were supposed to have a lunch meeting at 12.30 and arrived 30 minutes late already), we immediately went towards the Country Kitchen, the second of three restaurants at the Rosewood. Honestly, we were a bit stressed tough the warm welcome of the PR manager and the amazing service staff made us feel welcomed and relaxed at a time and the culinary tour through China began. While I don't remember all the wonderful dishes, the roasted Beijing duck, as well as the Chicken in sauce, were the most memorable ones with a soft and perfect taste. In addition to the local food we had to share, we were served a wonderful fermented tea that was much better than green tea indeed. Since the lunch was so extensive and heavy, we had no space for desserts and directly moved on to the hotel tour. In general I don't need hotel tours at check-in at city hotels since their facilities are limited and mostly not vast, however, the Rosewood Beijing is the complete opposite. I can proudly say that even some resorts better hide from the amenities this world class property is offering. But more in depth details later on.
First, let us focus on our room - an entry-level Deluxe Room with access to The Manor Club (Rosewood Beijing's version of Club Lounge) and I have to add that the rooms are part of the most spacious entry-level rooms I have stayed in ever. I totally am in love with the interior decor, the attention to detail such as the vast amount of various book especially selected by curators plus the perfectly matching fabrics to the dark wood. If I would build my house tomorrow, it would not look any different. So we entered the spacious entree with the huge walk-in wardrobe to the left until we arrived in the middle of our semi-separated living room with a chic sofa, leather swivel chair, spacious working desk with comfortable seat as well as the stunningly designed minibar with amazing drinks, Nespresso coffee machine, plenty of Voss water as well as a handmade welcome amenity consisting of a white chocolate mousse cake with raspberry. Not yes convinced? Well, not a problem because the super amazing bed was upgraded with two monogrammed pillow cases, indicating our both initials such as D.E. and L.S. for Daniel and Lukas. I have to admit this was the first time such a thing happened to me and we both were blown away. Why in all sake would they just do this for a one night stay? It's because at the Rosewood Beijing guests are still treated like Kings and Queens even if the design more feels like a super modern British home.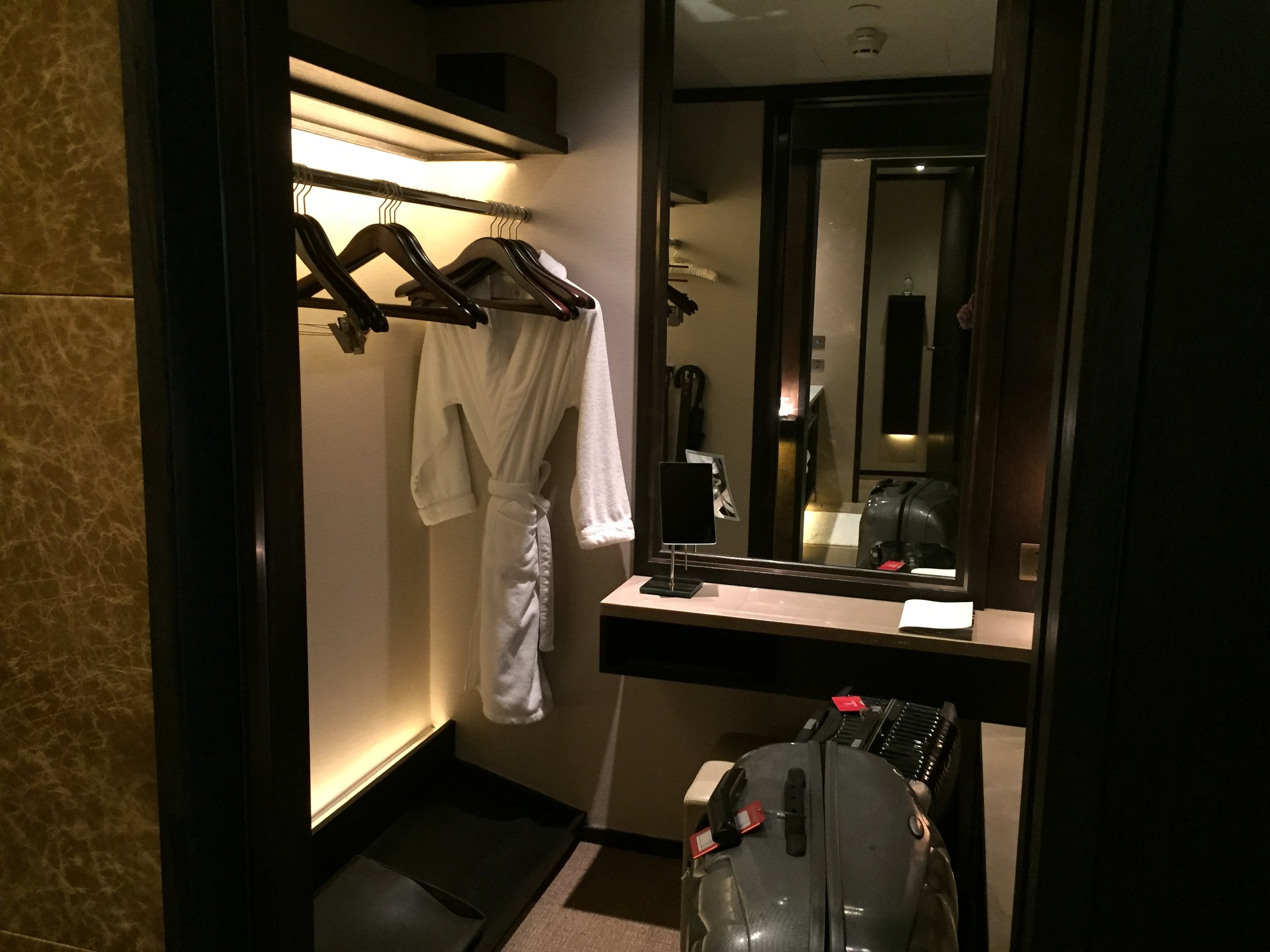 Beijing's most stylish guest rooms with a super spacious walk-in wardrobe and semi-separated living room.
After a few minutes of excitement - which of course still keeps on even a few weeks after our stay - we were ready to inspect the bathroom. With a super stylish basin with all guest amenities needed including C.O. Bigelow mouthwash, a separated toilet (not an electronic toilet, tough a plus for some), a walk-in shower with a perfect pressure as well as a huge bathtub fit for two people, this bathroom was just gorgeous in all ways. Might it be design wise or due to the attention to details, I don't know. The only thing I know is that I was overwhelmed by the big Lorenzo Villoresi toiletries that looked simply wonderful in their typical six-angled bottles. Can a hotel bathroom be better like this? Probably not if you're asking me.
I would love to stop saying amazing things about this property but there is no way we can avoid a report about the Spa. As their slogan indicates: A Sense of Place, this property does everything that your stay is not just seamless, your expectations are exceeded. We had the pleasure to try a 90 minutes Signature Treatment, which turned out to be the best massage experience I have ever had. It was even slightly better than at the Aman Sveti Stefan which I thought would be undoubtedly the best in the world. I was wrong. During the treatment of my colleague Lukas, the therapist saw his dry hand. When we left for the relaxation room after the actual treatment she arrived a minute later and got a special hand cream to prevent such things in future. That's all about the details and that's how we indicate the perfection of a world class property.
Seen enough of the room, we went down to the actually most exciting place of the hotel: The Manor Club Lounge. I have to say that I was a bit worried when I first entered the lounge because it is huge! Seriously there was plenty of space, with different living rooms, a terrace, and even a club room. Not even mentioning the vast buffet area where they had some snacks and small bites throughout the day. The only thing that I found quite interesting was the fact that alcohol is only complimentary during their happy hour lasting from 5-7pm. On the other times of the day, there was a charge for champagne, gin tonic, and other alcoholic drinks. But once they actually set up their Happy Hour, I was actually speechless. They did not just serve free flow Louis Roederer Brut and Rose, no they showed up with a trolley full of different Gins and plenty of tonic waters to make THE gin you always have or always wanted to try. Did I even mention the out-of-this-world buffet that comes along Happy Hour? With freshly cut Iberico ham, Italian grissini, the tastiest amuse bouche as well as the best sushi, the food presentation made it to the top hotel lounge in the world when it comes to my personal taste. The design adds for sure to the amazing experience, but Rosewood Beijing got my full attraction and honestly, I can't wait to go back to this lounge.
The only thing I regretted most was the fact that there was no time to experience the tropical like an indoor pool. We had to go to the tailor to get our suits so we were profiting from the complimentary Tesla X to go around the hotel within 3 km radius as a special amenity for all guests staying on the Manor Club floor. On the same night, we enjoyed a gorgeous dinner at the famous hot pot restaurant on the grounds of the Rosewood which turned out to be the most amazing dinner of our trip with the best cocktails we had on our entire trip, more in detail in a separated review. Another bad news was the fact that we had to get up early in order to catch our flight to Hong Kong, meaning that sleep was not sufficient tough amazing thanks to the best hotel linen we have had during this Asia trip.
We had a brief breakfast in the Club Lounge where they arranged a taxi to the airport and we had some nice fruits, freshly cut ham, and excellent baguette. When we left, we were handed over the two pillow cases (we paid for them as it was such a great surprise) and they took care of our luggage until we left the property. I guess the reason why we nearly missed our flight, was due to the fact that I could not leave the Rosewood Beijing. It will be my new favorite hotel when it comes to design and Club Lounge. With that being said I would like to thank every one of the staff members for the amazing stay and all the efforts they made in order to have the most unforgettable hotel experience of the year. I will be back soon that's for sure!
We were exclusively hosted by the Rosewood Beijing, however all above written expresses our own opinion and has not been influenced.